Last clue in the visual analysis of the wine: how fat is the wine, that is to say the ability of the wine to adhere to the glass when it is tilted and then straightened. It is a good indication of the smoothness of the wine, of its ethanol or glycerol content. We also talk about the tears, the legs or the thigh of the wine. These are the small drops that form on the inside of the glass when the wine moves. By observing these tears, it is possible to determine whether the wine is light or high in alcohol. A light wine has almost no drops. On the contrary, the thicker the tears, the higher the alcohol and glycerol (fat) content.
The olfactory study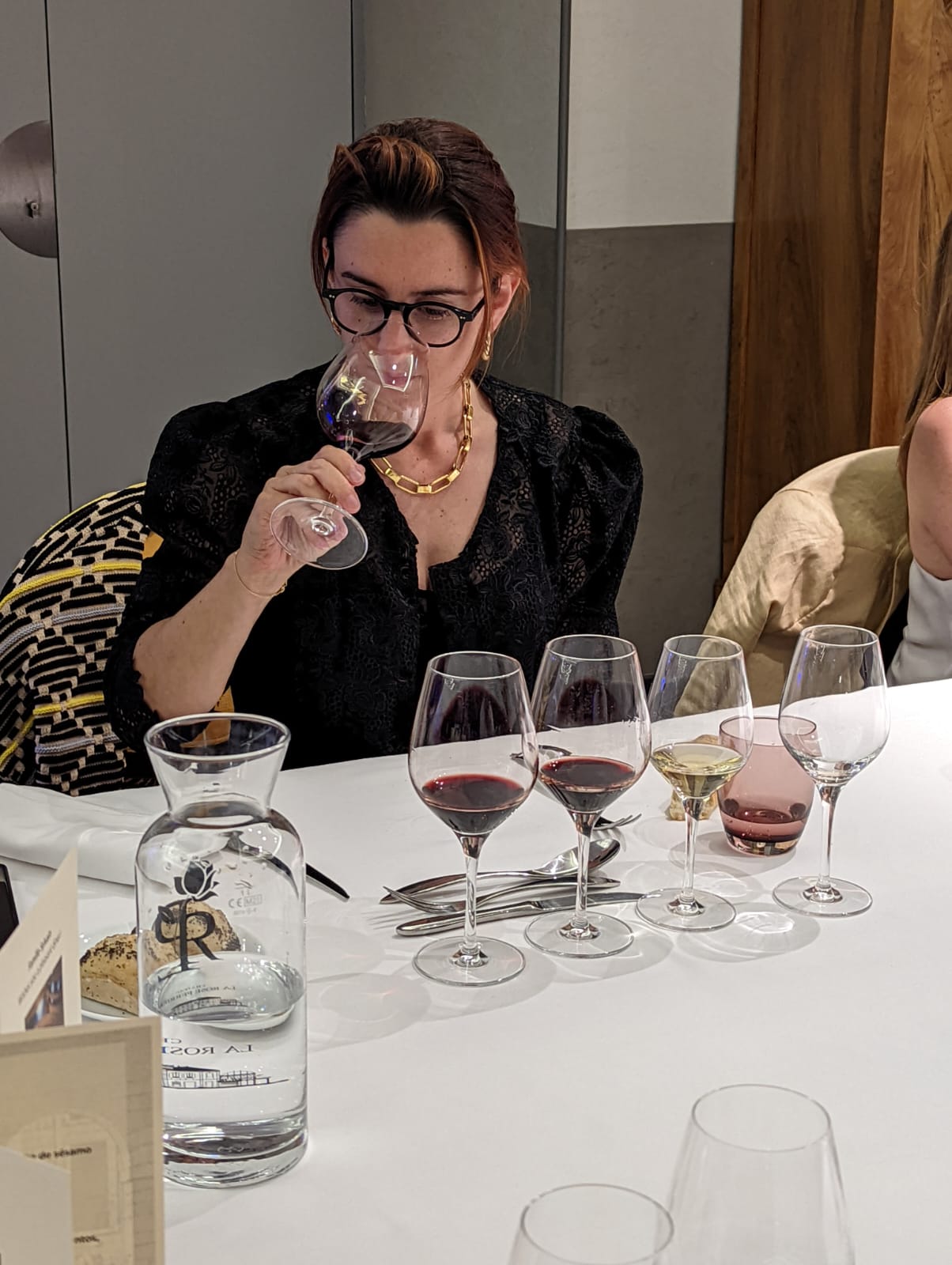 Now comes the olfactory analysis of the wine, a difficult exercise to understand. The human nose being sensitive to several thousand different odors (10,000 according to a 1927 study), it naturally comes into play in wine tasting during two key stages. It is about putting words to the olfactory perception of aromas by calling on our olfactory memory.
The first nose
The first nose allows you to smell the wine without it having undergone aeration. It helps the taster and in particular the sommelier to know if the wine needs to be decanted. This first step consists of smelling the wine in the glass held by the stem to avoid possible parasitic odors such as perfume. The wine is then still and not aerated.
The second nose
The second nose comes after: it reveals the aromas of the wine once it has been aerated. It is therefore obtained by stirring the glass, consequently exhaling hidden secondary aromas. These aromas are linked to the sugar content of the grapes.
Three large families of aromas can then be discerned: the primary aromas intrinsically linked to the grape varieties and the terroir, the secondary aromas resulting from the winemaking process and finally the tertiary aromas resulting from the maturation of the wine.
The taste analysis
This final stage of the tasting will reveal the harmony of a wine and its quality. To do this, you will need to evaluate the balance of its flavors and aromas. Certain flavors, which are too pronounced, neutralize others. Harmony essentially lies in the balance between sweet, sour and bitter tastes. There are three phases in this last stage: the attack, the development in the mouth and the finish. Go ahead, take a small sip of wine in your mouth, it will reveal its last secrets to you!
The attack
The attack is the first impression the wine gives. Once you have a small sip of wine in your mouth, two main techniques compete: chugging or chewing the wine. To crush the wine, you hold the wine in your mouth, purse your lips into a rounded shape and suck in a little air using your tongue. This allows the aromas of the wine to be perceived through the nose by retro-olfaction.
Pour mâcher le vin, il vous suffira de maintenir le vin dans votre bouche et de le brasser légèrement comme si vous faisiez un bain de bouche.
L'attaque du vin peut être souple, franche ou vive. Vous ressentirez rapidement les saveurs sucrées, acides, salées et amères du vin.
Laissez-vous guider par vos premières sensations !
Le développement en bouche ou milieu de bouche
Le milieu de bouche est la phase qui s'intéresse à l'équilibre du vin. Il s'apprécie en fonction de l'harmonie qui se crée entre les composants principaux du vin, à savoir le sucre, l'acidité, l'alcool et les tanins (pour les vins rouges).
La finale
La finale correspond à l'ensemble des sensations détectées en bouche qui restent une fois le vin avalé…ou recraché ! Parmi elles, les saveurs et leur intensité, mais aussi les tanins qui font le corps d'un vin, la douceur et l'alcool, qui auront tendance à alourdir un vin, et l'acidité qui aura, elle, au contraire, tendance à l'alléger.
On évoque dans la finale la longueur en bouche. Plus les arômes persistent, plus le vin est de qualité. Une fois le vin avalé, on compte la durée de persistance des arômes en caudalie (1 caudalie = 1 seconde). Elle peut être courte, moyenne ou longue.
La finale n'est toutefois pas le seul indicateur permettant de déterminer la qualité d'un vin. En effet, l'intensité et la complexité aromatique sont également à prendre en compte. L'équilibre entre le fruité et le sucre d'un côté et de l'acidité et des tanins de l'autre entre également en jeu dans l'évaluation de la qualité d'un vin.
Les familles d'arômes
Les analyses olfactive et gustative permettent de déceler des similitudes avec d'autres substances naturelles telles que les fruits ou les épices. En effet, lors de ces deux étapes de la dégustation, les arômes primaires qui proviennent du fruit, les arômes secondaires qui résultent du processus de fermentation et les arômes tertiaires issus de l'élevage, de la maturation en fût et du vieillissement en bouteille se révèlent et sont classés en 12 familles différentes :
Les fruités : noir, rouge, agrumes, noix, fruits secs, tropical, blanc ou jaune.
Les végétaux : asperges, genêts, thé fougère, pois, poivron vert…
Bois : chêne, pin, cèdre
Les floraux : iris, narcisse, acacia, œillet, fleur d'oranger, rose, églantine, violettes, aubépine, chèvrefeuille, pivoine.
Les boisés : Bois sec, écorce, chêne, cèdre, bois exotique.
Les épicés : poivre, poivre vert, cerfeuil, coriandre, paprika, persil, réglisse, cannelle, clou de girofle, muscade.
Les balsamiques : sapin, résine de pin, camphre, vernis, eucalyptus, résine, encens, térébenthine, thuya…
Les fermentaires : froment, bière, levain, levure, beurre, brioche, pain, cidre, fromage.
Les minérales : graphite, silex, hydrocarbure, naphte, pétrole, pierre à fusil, craie.
Les chimiques : détergent, alcool, acétone, hydrogène sulfuré
Les arômes animal : gibier, musc
Les arômes grillés ou empyreumatiques : chocolat, cacao, brûlé, café, café grillé, fumé, grillé, suie, goudron, pain grillé, tabac.