One of the oldest wine brotherhoods in the world finds its raison d'être at the heart of more than 2000 years of history between men and the vine: the Jurade of Saint-Emilion.
The revival of a historical tradition
The origins
The Jurade dates back more than 800 years ago, in 1199, when Aquitaine was attached to the crown of England, following the marriage of Eleanor of Aquitaine with Henry II. Due to its strategic place on the road to Saint Jacques de Compostela and its significant wine-growing economy, Saint-Emilion, which aspired to obtain greater autonomy, obtained the special status of Jurisdiction conferred by Jean sans Terre (son of Aliénor d'Aquitaine) during the signing of the Charter of Falaise. The latter then delegated political, economic and judicial powers to notables and magistrates for the management and general administration of the city.
Saint-Emilion obtained administrative and legal freedom, the administration of which was then entrusted to the jurats. In exchange for this new status, the jurisdiction developed its trade with England and in particular from the port of Libourne where the wine was sent by boat to Bordeaux then by the estuary and along the Atlantic towards the north.
Over the centuries, the deliberations and decisions taken by this institution have mainly concerned wine and its production. Indeed, Jurade therefore becomes the vigilant guardian of the very high quality of Saint-Émilion wines, closely monitoring production and what would be akin to specifications ahead of time and even sets the date of harvest grapes.
Renewal
This prestigious brotherhood, dissolved under the French Revolution and then forgotten, was dusted off in the middle of the 20th century by the Saint-Emilion Wine and Agricultural Union. Indeed, in 1948, the latter decided to delve back into the history books of the city of Saint-Emilion and to revive the Jurade on September 13 in order to give new impetus to viticulture.
"Sigillum Com Si Emiliani" is the Latin inscription which appears on the seal of Jurade. It means "the seal of the commune of Saint-Émilion". It is important to remember that in the Middle Ages, the word "commune" had a completely different meaning than today: it meant that the bourgeois of Saint-Émilion could take an oath. A long history to which the red dress of the Jurats and the epitoge of the inductees bear witness.
Throughout its history, the Jurade has also been a symbol of solidarity in the face of adversity. Thus, in 1884, during the phylloxera crisis which caused considerable damage in the main wine-growing regions of Europe, the first French wine union was created in Saint-Emilion in order to pool efforts and research to eradicate this sanitary catastrophe.
Ambassadors who promote Saint-Emilion
The jurade today brings together 140 jurats winegrowers, merchants or personalities who work for the reputation of Saint-Emilion throughout the world and who perpetuate the values of sharing, discovery, transmission and tradition.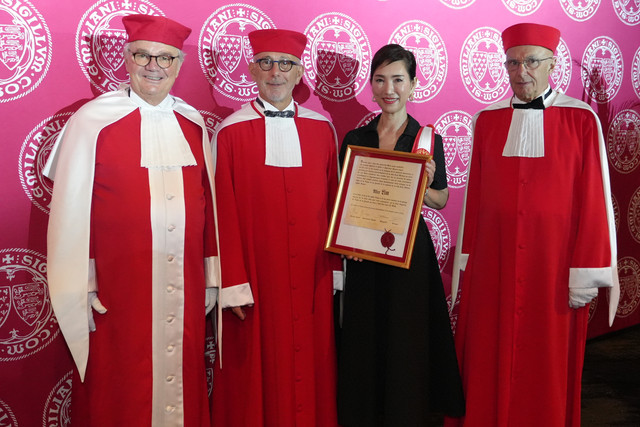 ©Jurade de Saint-Emilion